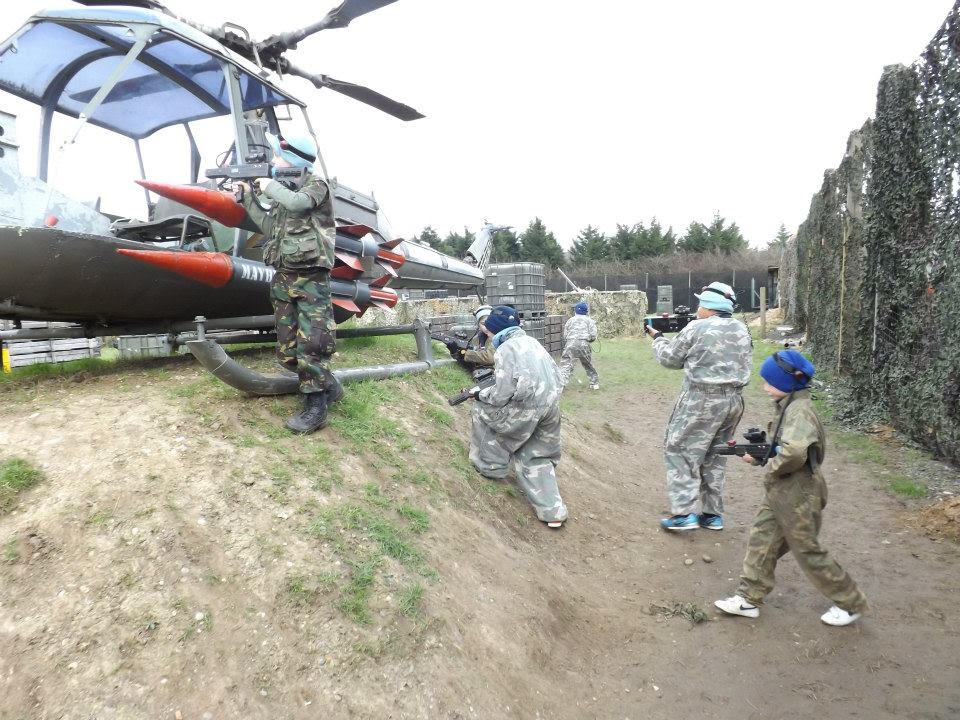 Laser Tag
Ideal for Adults and Children, we offer laser tag birthday parties from 6 years old, we have bigger equipment for Adults and teenagers, and with multiple battlefields, we run separate games for Adults and kids! If you are over 18 why not try our new Hypershock laser tag?
Kids Party prices:
It's £25 a person.

Play for around 2 hours, we have lots of different themed playing areas with Real Tanks, Planes, Helicopters, and much much more. When they have finished playing we have a big party room with Tables & chairs.
Food wise you can bring your own food and we supply orange juice and water (free of charge).
Food isn't included in the price, but we are able to get pizzas, which are all large at £13.99 for each pizza, margarita, pepperoni or Veggie, which normally feeds 3-4 people. (Pizza orders are taken on the day when you arrive and be ready at the end of play)
Our Sessions are:
11:30 am -1:30 pm.
2:30 pm - 4:30 pm.
Please arrive 20-30 minutes before the session starts, you can order pizza on arrival, we have a heated party room, if you order pizzas you will get a table for half an hour after the party finishes!
We also have very cool birthday invites we can send, which have directions and the form they all need to fill in on the invite. http://www.laser-mayhem.co.uk/uploads/mayhem-laser-invite-A4.jpg
Adults / Over 18s
2 hours of Laser tag for £30 per person.

Our purpose-built Laser-Tag facility is conveniently located in the Essex/North East London area just off the M25 and M11. Our facilities are second to none, with our huge party rooms which are free to use after every Laser-Tag party, with complimentary tea and orange squash. For parties, you can either bring your own party food or you can order pizza if desired from Domino's Pizza through us.
We are renowned for our cutting-edge technology and for being the ultimate venue for Laser games in Essex and London; with our amazing playing areas packed with features, and our promise to deliver the very best for kid parties. All the equipment and camouflage overalls are provided for all players, but we do recommend bringing old trainers with good laces or boots and comfortable clothing that you are happy running around in. A normal day's play consists of 10 games staged in 5 different areas, with teams getting the chance to start from both sides on each map. Laser Mayhem is a modern version of Quazer and Laser Quest bringing old 80's style Laser-Tag into the new age with more of a Call of Duty realism vibe complete with Russian Battle Tanks, Planes, Helicopters and so much more. We are always adding new features and striving to improve our fields in order to give our customers the best day possible.
We believe we offer a completely unique experience; nowhere else can you play Outdoor Laser tag with Real Military hardware, have the opportunity to shoot out of a real British armored personnel carrier, or be able to re-enact a hostage situation in a real plane. We offer more of an intense and gripping game than your average Quazer and Laser Quest days out. With 10 different outdoor playing areas just for Laser Tag as well as an indoor map if there is really bad weather. Laser Mayhem offers a fantastic experience all year round, we have a heated conference hall and party rooms for all you parents waiting for your 'little soldiers' and for when you have finished your Laser Tag session so that you can have food in the warm and dry.
We offer the Best Birthday parties possible with our customers coming back year after year, we provide a real Life Call of Duty experience designed for Adults and Children from 7 yrs old with missions around a selection of our different playing fields followed by the option of food in our indoor party room when you have finished playing.